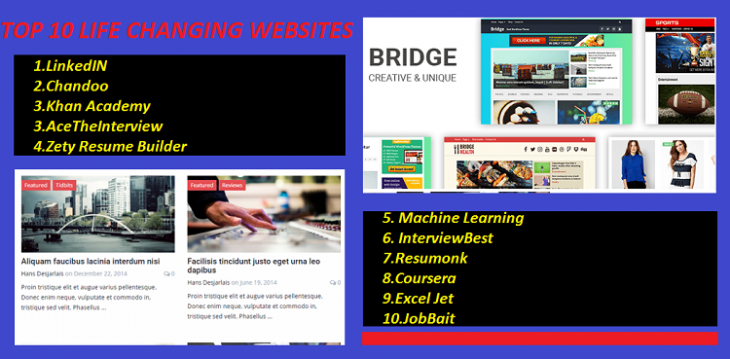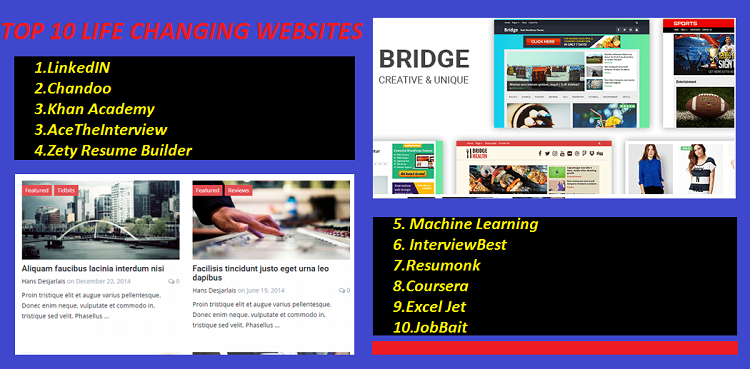 TOP 10 LIFE CHANGING WEBSITES
Top 10 life changing websites is a most know. If you do not know these websites then you are lacking some fact. Or hindering yourself from vital ideas. The websites on this page will change your life for good.
I will advice you to visit the sites and learn a lot from it. You can not visit any of the site and still remain the way you are. Some of the sites will help you acquire the five required employee skills you need in life.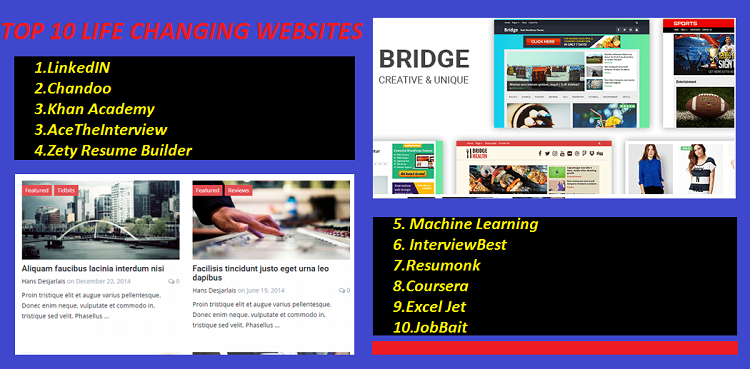 Top 10 Life Changing Websites for your career:
These websites helps to find job easily. They are reliable site from reputable organisation. You may need to google each of then to find the right site.
LinkedIN
Indeed
Careerealism
Job-Hunt
JobBait
Careercloud
GM4JH
Personalbrandingblog
Jibberjobber
Neighbors-helping-neighbors
Top 10 Life Changing Websites to learn Excel for free:
Excel is very common these days. Most organisation wants employee who can use it. Excel can help increase the chances of getting a job. Search for these on Google:
Microsoft Excel Help Center
Excel Exposure
Chandoo
Excel Central
Contextures
Excel Hero
Mr. Excel
Improve Your Excel
Excel Easy
Excel Jet
Top 10 sites for Free Online Education:
As a student or a learner you need to visit these sites. Most times when you are given assignment; this links could help. You can find some text to read here.
Coursera
edX
Khan Academy
Udemy
iTunesU Free Courses
MIT OpenCourseWare
Stanford Online
Codecademy
Open Culture Online Courses
TED-Ed
Top 10 sites to review your resume for free:
You will need to search this on google to get the right website. The sites here will help you prepare a good resume. Employers don't need to see some things on your resume.
Zety Resume Builder
Resumonk
resume .com
VisualCV
Cvmaker
ResumUP
Resume Genius
Resumebuilder
Resume Baking
Enhancv
Top 10 Sites for Interview Preparation:
You will need to search all this information on google to visit the sit. A great link were you can prepare for interview. Know the right answer to questions
Ambitionbox
AceTheInterview
Geeksforgeeks
Leetcode
Gainlo
Careercup
Codercareer
InterviewUp
InterviewBest
Indiabix
Top 10 Tech Skills in demand in 2019:
The world today is a global village. A digital age to say. You need to learn new skills. In other to strife with your competitors. These sites will help you acquire them.
Machine Learning
Mobile Development
SEO/SEM Marketing
Data Visualization
Data Engineering
UI/UX Design
Cyber-security
Cloud Computing/AWS
Blockchain
IOT